Pre-filtration Dosing pump system Sea water pump Sea water RO unit Energy recovery device
S-2m3PH - 4M3PH - 6M3PH
Seawater Reverse Osmosis Systems SWRO
From water-makers to industrial-sized Sea water RO System Purification, we provide a full vary of techniques. Our items are manufactured to remove a lot of salts and different minerals from seawater utilizing RO. Our gear does the filtration by using a high-pressure pump to salty water forcing it by means of semi-porous membranes denying salts and different organics from flowing by Sea water RO System means of.
Seawater desalination makes use of permeable membranes, that are solely tasked to take away dissolved solids whereas dividing the feed water or Sea water RO System into purified water and the rejected concentrated salts. The salts and different organics are thrown into the brine stream then flushed right into a drain. On the top, we've purified water that has 99% much less dissolved solids and salts. These seawater reverse osmosis techniques are immensely highly effective, with the capability of purifying considerably excessive TDS water.
Seawater RO techniques are usable anyplace from yachts to municipalities. It's necessary to decide on the right supplies of building to deal with sea water RO System (which is extremely corrosive). Pure Aqua, Inc. makes use of supplies reminiscent of Duplex SS 2205, SS 2207 or Monel, and SS 904 to ensure longer working life and less upkeep.
Ultra Tec Water Treatment LLC, has intensive expertise in manufacturing water treatment techniques that work to desalt seawater all worldwide. Our engineers seek the advice of different producers of desalination gear. Take benefit of our experience. Contact Ultra Tec Water Treatment LLC,in the present day for professional, pleasant service and high-quality assist.
SEAWATER PROCESS
The normal therapy course includes pre-filtration (auto-backwashing multimedia filters and cartridge filters), antiscalant dosing to stop membrane scaling, sea water RO System desalination and auto flushing and CIP techniques for membrane cleaning. Additional pre-RO and post-RO therapy steps could also be added as required to go well with feed water circumstances and/or handled water high-quality necessities.
Pre-booster pump
Pre-filtration
Dosing pump system
Sea water pump
Sea water RO unit
Energy recovery device
RO booster pump
RO unit
Indicators / Alarm / Auto-control
Storage tank (option)
Other Services Provided By Ultra Tec Water Treatment LLC:
Best Water Treatment Companies in UAE
water filtration system suppliers in uae
anti hair fall shower filter dubai
List of Water Treatment Companies in Dubai UAE
Anti hair fall shower filter Dubai
Whole house water filter Dubai
Water flow meter supplier in UAE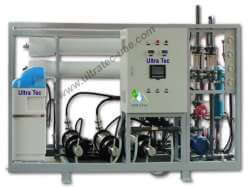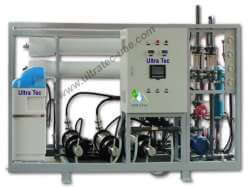 Write to us to order or ask for more information: