copper silver ionization mineral pure
Clearly the most accurate and reliable mineral ionization system in the world. Unit will dynamically adjust output voltage to match electrode conditions extending the life of the control unit
Copper-Silver Ionisation System
The Copper-silver ionisation is gaining popularity worldwide as a water disinfection method. We review the literature that supports the effectiveness and safety of the copper-silver ionisation concerning legionella control in water distribution systems. an enquiry between January 1997 and January 2007 was conducted in relevant health databases: Medline, Embase, NHS CRD, Cochrane Library Plus, Web of data , IME (Spanish Medical Index) and IBECS (Health Sciences Bibliographic Index). Ten published studies were selected consistent with inclusion and exclusion criteria previously established; most of those were experimental. Legionella levels decrease with the appliance of any of the procedures utilized in these studies and therefore the procedures are often combined to get better outcomes. No studies containing an economic evaluation were found. We conclude that copper-silver ionisation is an efficient method to regulate legionella, bearing in mind that eradication can't be achieved by any method in isolation. Maintaining high temperatures within the water system can maximise effectiveness of the tactic.Copper-silver appears to be safe, as long as ion levels are monitored and kept within international recommended levels. More studies with concurrent control group, long follow-up and economic evaluation are required to properly assess this procedure.
Features:
All newly designed models feature state-of-the-art circuitry design using the latest in digital technology.
Clearly the most accurate and reliable mineral ionization system in the world.

Unit will dynamically adjust output voltage to match electrode conditions extending the life of the control unit and savings as much as 60% in electricity usage.
Total digital design and output. Features a digital display of the milliamp output, alternating electrode indicators, check electrode warning and much more.
Durable weatherproof enclosure.

Clear window for easy monitoring and secure latch. Unit includes control box (which will work on 110/220 VAC automatically), 6 electrodes (one set per 75,000 gallons of water being treated), unique clear flow cell chamber, electrode wire, mounting brackets and test kit All models are NSF Standard 50 approved, UL and CUL listed. NASA licensed technology.
Other Services Provided By Ultra Tec Water Treatment LLC:
Best Water Treatment Companies in UAE
water filtration system suppliers in uae
anti hair fall shower filter dubai
List of Water Treatment Companies in Dubai UAE
Anti hair fall shower filter Dubai
Whole house water filter Dubai
Water flow meter supplier in UAE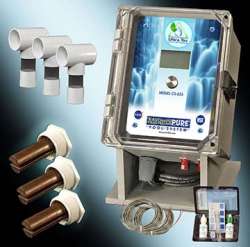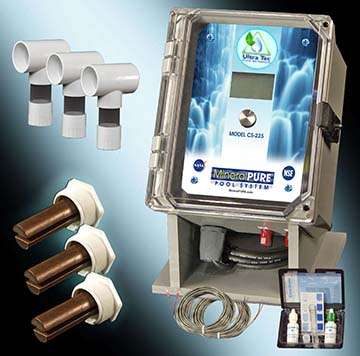 Write to us to order or ask for more information: