Stainless Steel RO Water Purifier
Stainless Steel RO Water Purifier Home and Office use, RO Water Dispenser Economical & Reliable Hot / Cold / Normal, 3 taps and 3 options
Home & Office Use, RO Water Dispenser
Features
Ultra Tec Water air purifier is designed to maintain water recent and secure for consuming. Without having to boil on a regular basis, it has a clever PURETRAC show monitoring the functioning of the water tank to maintain water recent and antibacterial. More options like UV Shield and a further water tank could be put in which could be changed over a time interval of three years offers secure and wholesome consuming water.
IS HAVING A PLASTIC MADE WATER PURIFIER SAFE?
The world is slowly altering from plastic water storage to Stainless Steel which is meals grade and atmosphere pleasant. We at Conway had taken the primary initiative to give you the Stainless Steel RO + UV Water Purifier and storage tank to maintain your water-secure and wholesome. EVOLUTION OF CONWAY STAINLESS STEEL RO Water Purifier + UV WATER PURIFIER;There are much dependable water purification applied sciences out there on the planet at current and one has to decide on the appropriate water purifier, primarily based on the uncooked water availability. No single water purifier know-how is appropriate for every kind of accessible uncooked water, however, there's a resolution for any sort of water out there, because of know-how. Though there are applied sciences to purify water, the issue occurs solely after we retailer the water in plastic containers. Yes, virtually all water purifier manufacturers include plastic storage tanks solely. We at Conway have solved this challenge by introducing Stainless Steel RO + UV Water Purifier and Storage Tank that are made from SS304 meals grade materials. Conway Stainless Steel RO + UV Water Purifiers are made utilizing essentially the most superior applied sciences to make water, pure and wholesome always. By making this product in Stainless Steel, Conway has addressed two considerations – retaining purified water-secure and likewise growing the product life. INSTALL CONWAY STAINLESS STEEL RO + UV WATER PURIFIER AT YOUR HOME! FEEL SAFE AND HEALTHY!
Unique Features:
Minimal civil work and construction
Small footprint
Plug and play installation
High-quality components (Grundfos pumps, DOW Filmtec membranes, Codeline vessels, Pure Aqua microprocessor control panel)
High recovery design
High rejection membranes
Low energy and chemical consumption
Economical & Reliable Hot / Cold / Normal, 3 taps and 3 options
Reverse Osmosis Features
50 GPD/TFC membrane
5 micron sediment filter
Two GAC in-line filters
Post carbon in-line filter
Fully assembled
All hardware included
Automatic tank full control
Booster pump (CWC-929P only)


Specifications:
Production: 50/75/100 GPD
Input in AC 110Volt, 220Volt or 240Volt (50/60Hz).
Operation feed water pressure: 50 psi


Cooler Features:
Microprocessor control
Easy access all the controls and filter cartridges
Independent Hot/Cold power switches
Re-heating up to 100°C
Built-in 6 stage RO system
Tri Temp, room, cold and hot water supply
Automatic heating shutoff when hot tank is empty
2.5 gallon capacity reservoir


Other Services Provided By Ultra Tec Water Treatment LLC:
Best Water Treatment Companies in UAE
water filtration system suppliers in uae
anti hair fall shower filter dubai
List of Water Treatment Companies in Dubai UAE
Anti hair fall shower filter Dubai
Whole house water filter Dubai
Water flow meter supplier in UAE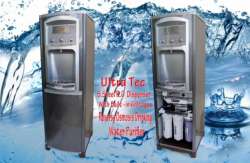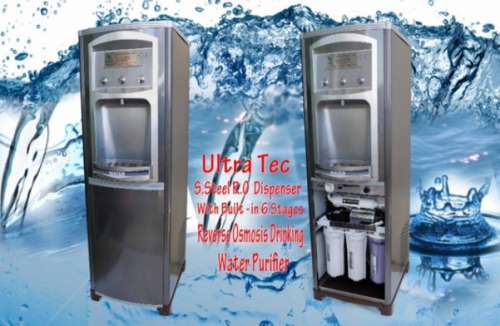 Write to us to order or ask for more information: